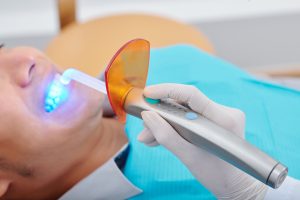 When you have more than just stained teeth, but issues with misshapen or damaged ones, you may need more than teeth whitening. With dental bonding and contouring, your Houston, TX, dentist will provide repair in only one visit. In today's blog, find out how we use these cosmetic treatments to help repair and improve your smile in one sitting.
The Bonding Material
Let's talk about the material we use. Composite resin is a blend of acrylic and quartz-like particles, completely free of metal. The material is safe for people of all ages, and can actually be color-matched to blend with your smile. For that reason, we can tackle a host of cosmetic issues. In fact, we also use the same material in our dental fillings to provide natural-looking repair. The entire treatment will only take one visit, so you can leave with a stunning new smile!
Repairing the Tooth
The process is simple. We start with a numbing agent to ensure you feel comfortable throughout the process. Next, we remove any decay and then gently etch the surfaces we apply the material to. We apply several layers of composite resin, and then as we cure the material under a light, we sculpt and mold the tooth. The final step is to polish the tooth thoroughly. In the same visit, we could also contour your teeth. The procedure involves carefully sanding and buffing the outer structure to remove minor imperfections.
Cosmetic Benefits
With dental bonding, our team can mask permanent teeth stains, repair cracked and chipped teeth, and add length to worn down teeth. We can also close gaps and black triangle spaces between your teeth too. Bonding also repairs malformed teeth as well. With contouring, we reshape overly large teeth, and smooth out rough patches, pits, and grooves in the tooth. The contouring process can also repair chipped teeth, and reshape malformed teeth. We could even combine these with teeth whitening and porcelain veneers for a complete smile makeover!
If you have any questions about these procedures, or if you would like to learn which ones are right for you, then you should schedule a cosmetic consultation with our office. We're ready to help you enjoy a stunning new smile in only one visit!
TALK TO MMC DENTAL ABOUT COSMETIC TREATMENT
We want to help you enjoy a brighter and more attractive smile, and transformation in some cases. For more information on how we provide esthetic repair in one visit, then contact your Houston, TX, dentist, Dr. Chan, by calling 713-926-8896. We have an array of cosmetic treatment options available to help you, such as teeth whitening, porcelain veneers, and even dental bonding and contouring. A new smile is possible!