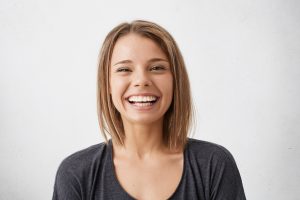 With bonding and contouring, our team offers major smile improvements with a conservative and minimalistic approach. In fact, these two procedures can both be completed in one visit, so you leave after a single sitting with a brighter, more attractive smile. In today's blog, your Houston, TX, dentist will look at our bonding and contouring treatments.
The Bonding and Contouring Process
With dental bonding, we use the same composite resin that makes our metal-free and tooth-colored fillings possible. The material is a blend of glass and acrylic, one we tint to blend with the rest of the tooth. We begin by administering a local anesthetic and then removing any decay from the tooth. We then clean the tooth and may etch the surfaces. The composite resin is applied in several layers, and then shaped as the material cures under a light. The last step is the polish the tooth. The contouring process involves sanding and buffing the outer structure to remove esthetic issues with the shape and surfaces.
Improvements for Your Smile
The bonding procedure means our team can mask permanent teeth stains, the kind that may not respond to most teeth whitening treatments. We also close unsightly gaps between the teeth, even those black triangle spaces. We could repair minor chips and cracks, lengthen worn down teeth, and reshape malformed teeth too. Contouring enables us to remove pits, grooves, and rough patches in the surface of the teeth, address very minor chips, and reshape misshapen or overly large teeth. We could also dull pointed or sharp teeth. Both could be used to improve bite balance, limiting the risk of imbalance, jaw joint strain, and issues like TMD or bruxism (chronic teeth grinding). All of this is possible in only one visit!
Smile Makeovers
We could also combine this with other esthetic treatments. For some, teeth whitening to ensure the bonded teeth match the brightest possible version of your smile. We could also use porcelain veneers for the front-facing teeth, and reserving the other treatments for the side and rear ones, offering a cost-effective makeover. When we examine your smile and discuss your goals for your smile, we will create a personalized treatment plan to improve your esthetic concerns with one or more treatments. We want you to feel proud of your smile! If you have any questions about how we treat esthetic issues, or about any of our unique cosmetic treatments, then contact our team today to learn more.
MMC DENTAL OFFERS COSMETIC REPAIRS
MMC Dental wants to help you enjoy an attractive smile with cosmetic dentistry. To learn more about rebuilding your smile with cosmetic dental care, start by scheduling your next appointment at MMC Dental in Houston, TX by calling 713-926-8896.