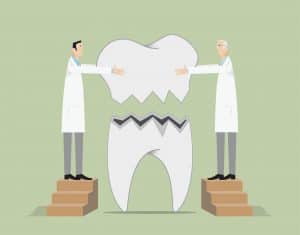 Accidents happen to everyone, from cracking a tooth while snacking on a chip to chipping it during a sports activity. Depending on the level of damage done, fortunately, there can be multiple methods for fixing an oral structure.  Whether you have cracked your tooth or chipped it, MMC Dental in Houston, Texas offers the ability to restore your smile back to its original functionality and appearance and suggests that having the oral structure brought together and shaped offers a less invasive, efficient method for accomplishing just that.
Chips and Cracks
When you crack a tooth, the structure splits apart from itself into at least two sections, while maintaining its placement due to the root's security to the jawbone in the gums. When this occurs, harmful bacteria can enter the split and begin to infect and rot the area from the inside out.
Chips, on the other hand, can be caused by some sort of blunt force that has caused part of a tooth to separate from the rest of it. Leaving a chip unattended can lead to sensitivity, as part of the protective enamel has been removed from the surface. When either of these circumstances occurs, it is crucial you seek restorative dental assistance immediately.
What Bonding Entails
Bonding is the process used to essentially glue a cracked tooth back together. A color-matched dental composite is used as a paste between the sections and is then hardened to create a tight seal and make the structure whole again. Bonding offers a minimally-invasive method for removing blemishes such as cracks from your smile and offers a seamless appearance with color-match technology.
How Contouring Mimics Your Natural Smile
Chips, on the other hand, can be made to appear as nothing happened with the use of dental contouring. Contouring is the process of utilizing a dental composite on the affected area and then shaping it to mimic the natural-looking appearance of your teeth. Like bonding, contouring utilizes the tooth-colored composite technology to provide an unwavering appearance, restoring your beautiful smile back to its healthy state. For more information on how bonding and contouring can be used to cosmetically perfect your smile, contact our office today.
Schedule Your Cosmetic Treatment Today
A confident look is often accompanied by confidence and happiness, and the team at MMC Dental is dedicated to giving you the shine you deserve. Not only does bonding and contouring benefit your teeth by protecting it from harm, but it provides a cosmetically appealing shine as well. For more information about cosmetic treatments from our Houston, Texas dentists, contact our office today by calling (713) 926-8896 or schedule an appointment online. We welcome the opportunity to provide you with the look you not only hope for but deserve as well.