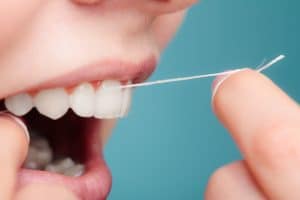 What makes a smile becomes discolored with unsightly yellow and brown stains? Understanding the causes means you can make better choices for your smile's beauty while you're staying home. As your Houston, TX, dentist explains, the same care that helps protect you from tooth decay and gum disease, could keep your teeth brighter until we can see you again for professional cosmetic dental treatments.
The Causes of Discoloration
How does a smile develop discoloration in the first place? Well, a diet high in sugary and starchy foods and snacks could feed harmful bacteria and cause plaque buildup, a layer of sticky bacteria byproducts that make stains more visible (and increases the risk of issues like tooth decay and gum disease). Drinks that contain tannins, like tea, red wine, or coffee, or dark pigments and sugar, like soda, could make stains more visible. Lack of proper homecare is also a factor! When we smoke cigarettes or use tobacco products, this also stains our smiles too.
Steps to Limit Severity
To help limit the severity of stained teeth until we can see you again for cosmetic care, we suggest cutting back on sugary items and eating healthier snack choices. Be sure you drink more water and reduce your consumption of beverages with dark pigments and tannins too. At home, take time to brush your teeth twice a day for two minutes, when you wake up and once more before bed. You also need to floss every night before going to sleep as well. Avoid tobacco products, as these not only stain your teeth but increase the risk of several forms of cancer. With the right steps, you can help your smile stay brighter, and also limit your risk of tooth decay and gum disease in the process.
Be Careful with OTC Solutions
When you visit the store to gather supplies, you may notice a number of products that promise to erase discoloration and brighten teeth. However, we want to remind you that many whitening strips could lead to tooth sensitivity. Whitening toothpastes have also been linked to sensitivity, as the abrasive agents used to remove discoloration could also weaken tooth enamel too. Instead, practice good oral hygiene from home and watch what you eat and drink. If you have any questions about better homecare habits, or if you find yourself faced with a dental emergency, then please contact our team today for more information.
DO YOU HAVE QUESTIONS ABOUT DISCOLORATION?
A number of different factors could cause issues for your smile's beauty, so we want you to make better choices for your smile's health and beauty while you're at home. To learn more about addressing dental discoloration, schedule an appointment by calling MMC Dental in Houston, TX, today at (713) 926-8896.