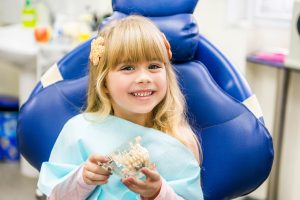 February is National Children's Dental Health Month. Brought to you by the American Dental Association, this observance aims to promote good oral health practices to children, their guardians, their teachers, and others. And while the celebration is focused on only one month, taking care of your child's teeth is a year-round service that your Houston, TX, dentist is happy to provide. Our children's dentistry treatments can help your loved ones fight cavities, maintain dental health, and have a bright smile. Here are some of the ways we offer care for your child's teeth. 
They Say, An Ounce Of Prevention…
Just like with adults, prevention is key to keeping a child's dental health in order. We encourage you to bring your children in as soon as their first teeth appear. That way, we can ensure they are coming in straight and that the gum tissue is healthy. And once they start coming to the dentist, they should have regular checkups and cleanings at least twice a year. We will check their developing teeth and oral structures for any issues that need to be addressed. While visiting us for a cleaning, we recommend a fluoride treatment, as well. This will make their teeth enamel stronger and help fight off oral bacteria.
A Barrier Against Bacteria
Regular brushing and flossing are good dental habits for your child to practice. However, even the most consistent brushing sometimes misses bacteria. That is because it is hiding in the crevices of the back teeth, which are sometimes hard to reach when brushing. One way we address this issue is with dental sealants. These thin, plastic coatings are applied to the molars. They act as a barrier against bacteria, which if left untreated, could lead to cavities. The sealants usually last about a year, and we are happy to replace them if needed. 
Filling In To Save The Tooth
Cavities are bound to happen, both for adults and children. However, when they are detected early, we can repair the tooth with cavity fillings. They are biocompatible and safe. If your child needs a filling, we will clean the tooth, remove any bacteria or decay discovered, and then fill it with a tooth-colored composite resin or metal amalgam filling. This gives the tooth strength and helps prevent bacteria from growing deeper in the tooth.  
Schedule Your Child's Next Appointment With Us
Taking care of your child's dental health is a continuous practice that we are happy to provide through regular checkups and cleanings, treatments, and information on proper brushing and flossing techniques. To find out more about our approach to family dentistry, please schedule a consultation with Dr. Michael Chan by calling MMC Dental in Houston, TX, today at (713) 926-8896.