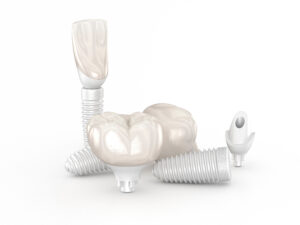 We don't just use oral surgery to extract teeth, but to replace them too. With dental implants, we can offer an advanced, lifelike, and long-lasting option to replace missing teeth and preserve your smile. In today's blog, your Houston, TX, dentist talks about replacing missing teeth with dental implants.
The Need for New Teeth
When you lose even a single tooth, this could mean serious trouble for your oral health. For example, a missing tooth could cause the surrounding ones to shift from position, causing misalignment and an increased risk of tooth decay and gum disease. The pressure of a missing tooth could upset bite balance, leading to a high risk of TMJ disorder and bruxism (teeth grinding). You could also have trouble eating your favorite foods, or even speaking clearly. Not to mention the impact on your self-confidence. When you suffer from a missing tooth, then see us right away for treatment.
The Dental Implants
Our team will first examine your smile to assess the cause and extent of your tooth loss. We may need to treat underlying issues like gum disease, managing them to prevent issues with your new teeth. Next, we use digital technology to plan the perfect angle and position to insert your dental implant posts. These are made from biocompatible titanium and bond with the jaw like natural roots. This prevents the loss of mass and density in the jaw, so your new roots can last for decades to come, maybe even a lifetime. Once they're in place, we can move forward with addressing the visible portion of your new tooth or teeth.
Restorations and Prosthetics
For an individual one, we will custom-make a dental crown, which is attached to the post with an abutment. The crown will be made to blend with the smile, fit comfortably, and offer a durable chewing surface too. If you have multiple missing teeth, we could use several posts to support a bridge, partial or even a complete set of dentures, which will be fixed in place and never slip when you eat or speak. You again have a lifelike smile, one that looks and functions like natural teeth.
If you have any questions about addressing tooth loss with dental implants, then contact our team today to learn more. We want you to smile with confidence, and you still have time to use your 2022 dental insurance benefits before they expire at the end of the month.
TALK TO YOUR HOUSTON, TX DENTIST ABOUT REPLACING LOST TEETH
We use oral surgery to address lost teeth with dental implants. If you have questions about our options for replacing missing teeth, or if you need to set up an appointment, contact your Houston, TX, dentist, Dr. Chan, by calling 713-926-8896.