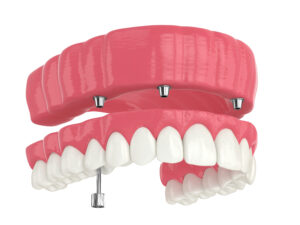 A full set of dentures could address major tooth loss, so you can not only smile with confidence again, but eat your favorite meals too! Our team can design and craft a custom set designed specifically for your smile. In today's blog, your Houston, TX, dentist talks about how we create your full set of dentures.
What Total Tooth Loss Means
When you lose all of your teeth, or at least a majority of them, this could lead to major issues with your overall quality of life. For example, you'll find yourself severely limited in the kinds of foods you can consume, which lowers your nutritional intake. In addition, you could find clear speech difficult, and may feel embarrassed about your smile's appearance. Your jawbone could also lose mass and density due to the body suspending or diverting the flow of calcium and phosphates following the loss of the teeth. To avoid a prematurely aged appearance and problems with your daily life, you need to seek tooth replacement.
Designing a Prosthetic
When we see you, we will take a close look at your smile. The few remaining teeth will need to be extracted, and we will then gather detailed digital images to help in the design and fabrication process. The denture will contain a complete row of new teeth set in an acrylic base. The teeth will be made from ceramic and shaded to offer a lifelike appearance. They can also absorb daily bite forces with ease! The base will be designed to look like gum tissue. This will provide a complete smile that looks and functions like a natural one!
Full Dentures
For removable options, the denture will be held in place with natural suction or the assistance of an adhesive, and will need to be removed for cleaning and soaking. These tend to last about 5 to 10 years on average, and need replacement when the jaw ridge changes shape. But we could also secure them with dental implants. Inserting dental implants help stimulate the growth of jawbone structure to support new teeth and prevent changes to the ridge shape, so your new prosthetic can last for decades to come, possibly a lifetime, and will never need to be removed for cleaning or soaking.
If you have any questions about addressing your advanced tooth loss, or about seeing us now to use your remaining 2022 dental insurance benefits, then contact our team today to learn more.
TALK TO YOUR HOUSTON, TX DENTIST ABOUT CUSTOM TOOTH REPLACEMENT
Our team wants to secure a complete set of natural looking dental prosthetics. If you have questions or need to set up an appointment, contact your Houston, TX, dentist, Dr. Chan, by calling 713-926-8896.