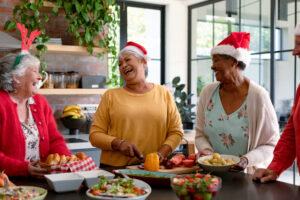 During the holiday season, we're seemingly inundated with sugary foods and drinks or favorite dishes with a high amount of starch. These ingredients are part of what makes these foods delicious, but they can also lead to tooth decay. In today's blog, your Houston, TX, dentist talks about how to help avoid cavities during this time of year.
The Link Between your Favorite Foods and Cavities
Often, our holiday treats are high in sugar, and even our favorite comfort foods from this time of year contain lots of starch. Sugar and starch tend to attach themselves to the teeth and remain there. As bacteria consume these stray particles, this increases the risk of tooth decay and gum disease. This is due to the buildup of plaque that occurs, weakening outer enamel and inflaming gum tissues. The same buildup is also linked to issues like bad breath and even stained teeth! You should enjoy items rich in sugar and starch in moderation, and follow them with a glass of water to help cleanse the mouth. You can also balance your plate with fresh fruit and vegetables, which are not only healthy, but can help scrub away plaque as you consume them.
Taking Care of Your Smile at Home
Every day you need to take proper care of your smile, and this includes the holiday season. You should start each morning by brushing your teeth for two minutes, reaching all available surfaces, and using a fluoride toothpaste to help strengthen the outer enamel. You need to do the same every evening before bed as well. Flossing before bed is also critical, as flossing removes trapped food particles and helps limit the risk of gingivitis and gum disease. These actions are necessary for people of all ages, from kids to adults!
Schedule a Checkup Visit
A checkup and cleaning are also important. These visits let us remove all harmful plaque and tartar, and also identify any areas of concern that need treatment. If you haven't had one in the last six months, we urge you to see us now before the holiday season gets too hectic to find time to see us. You can also use any remaining 2021 dental insurance benefits before they expire. We would love to help you greet 20202 with a healthier smile! If you have any questions about how we care for your smile, or if you would like to schedule a checkup and cleaning visit for you and your family, then contact our team today.
TALK TO MMC DENTAL ABOUT PROTECTING YOUR SMILE
We want you to enjoy your celebrations without leaving your smile vulnerable to tooth decay. For more information on the best way to protect smiles from cavities, then contact your Houston, TX, dentist, Dr. Chan, by calling 713-926-8896.