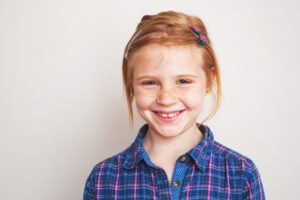 Children need regular care from the dentist starting as young as age one for the first visit, and age two for regular visits. This helps reduce the risk of issues like tooth decay and helps them better understand their oral health. In today's blog, your Houston, TX, dentist talks about our compassionate approach to children's dentistry.
When Kids Need to See the Dentist
How often does a child need to see the dentist? Well, we would love to see them for an initial visit once the first baby tooth erupts, around age one. Starting at age two, they should start attending checkup and cleaning visits every six months. This allows us to keep an eye on their smiles and address issues in the earliest stages as they arise. We also clean the teeth, removing the harmful plaque and tartar buildup that could cause issues like tooth decay and gingivitis. If your child begins to complain about discomfort, such as a toothache, consider scheduling a visit. We're also here to address emergency issues, such as a chipped or cracked tooth, or one that is knocked out. 
Preventive Treatments and Fillings
We also employ preventive treatment options to help safeguard little smiles against threats like tooth decay. During the checkup visit, we will take time to apply a special fluoride varnish to the teeth. The material helps strengthen the outer enamel and keep teeth strong. We could also use dental sealants to provide a coating on the back teeth, which are difficult for kids to reach when they brush and floss, and limit the risks of tooth decay by preventing food particles from becoming stuck between them. The sealants then stay in place for up to ten years in some cases! If a cavity does develop, we could place a metal-fee and lifelike dental filling, one that is safe for kids of all ages and protects them from further decay and discomfort following placement.
Good Care at Home
Good home care helps limit plaque buildup in between your visits to see us for treatment or for an exam. Children of all ages need to brush their teeth or have their teeth brushed in the morning and then again before bed. For kids, be sure you use a rice-sized amount of fluoride toothpaste. Kids also need to floss in the evening once there are teeth sitting next to one another. If you have any questions about how we treat issues like tooth decay, or how we protect little smiles with preventive care, then contact our team today. 
TALK TO MMC DENTAL ABOUT CHILDREN'S DENTISTRY
We would like to help your children maintain their best possible smiles. For more information on Helprin kids enjoy better oral health, then contact your Houston, TX, dentist, Dr. Chan, by calling 713-926-8896.