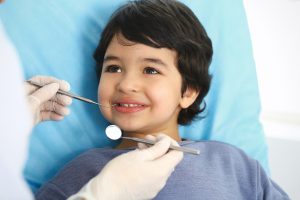 Kids need routine care, including six-month checkups and cleanings, just like adults do. These visits help us monitor the smile as it grows and develops, and allow us to offer preventive care to protect kids from the onset of tooth decay and infection. In today's blog, your Houston, TX, dentist will discuss how we treat a child's smile.
Understanding Your Little One's Smile
We would like to see your child for the first time once the first baby tooth erupts. During this visit, we will examine the smile to make sure teeth are erupting properly. Afterward, a checkup every six months is recommended so we can watch for signs of cavities, infection, gingivitis, and other issues as the smile grows. We also keep an eye out for signs of misalignment, baby teeth not falling out on schedule or permanent teeth becoming impacted. We want to better understand your child's smile, so we can help him or her avoid common oral health issues completely. A preventive approach keeps smiles healthy, and reduces the need for restorative care down the road.
Fluoride Treatments and Dental Sealants
Our team also provides unique preventive treatments to help patients avoid issues like tooth decay. For example, during each six-month checkup visit, we will apply a special fluoride varnish to the surfaces of the teeth. The fluoride then strengthens the outer layer of enamel to make cavities less likely to form. We also suggest using a fluoride toothpaste when brushing!
Kids often have difficulty reaching the rear teeth when they brush and floss, so food particles could remain trapped between them. To prevent this, we could place a dental sealant on the rear teeth. We first dry the teeth and apply the acrylic material in a thin layer. The material then prevents foods from becoming stuck between the teeth, and lasts about 5 to 10 years on average. They wear away naturally with time, and help protect your smile.
Biocompatible Dental Fillings
If we do find a cavity, then our team could recommend a treatment that takes only one visit to apply. A filling helps fill the cavity in the tooth, and provides a lifelike appearance. Instead of metal, we use a biocompatible blend of glass and acrylic known as composite resin, which is safe for all ages. We could then discuss tips for keeping the smile free of additional cavities. If you have any questions about how we approach children's dentistry, then contact our team today.
TALK TO MMC DENTAL ABOUT CHILDREN'S DENTISTRY
Our team wants to help kids of all ages in our community enjoy their healthiest smile with six-month exams. For more information on our approach to children's dentistry, then contact your Houston, TX, dentist, Dr. Chan, by calling 713-926-8896.