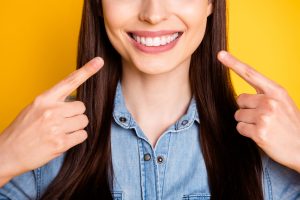 Each of our cosmetic treatments, such as teeth whitening and gum contouring, addresses a specific aspect of your smile. However, with porcelain veneers we use a thin restoration to address several issues at once, offering your smile a makeover in two visits. In today's blog, your Houston, TX, dentist talks about the process of crafting and placing porcelain veneers.
The Porcelain Veneer
A porcelain veneer is a thin shell that is used to cover the front and sides of each tooth. In doing so, they instantly correct the appearance of your smile, masking discoloration and reshaping them. The material is also durable and strong, able to absorb daily bite forces. Porcine is also translucent like natural enamel, and can be color-matched to blend with the rest of your smile. We can use them to offer a complete smile makeover in only two visits!
Creating and Placing Them
We start by making sure you're comfortable with a local numbing agent. We then remove a very thin outer layer from the teeth. Next, we take detailed digital images of the teeth. We will use these images and impressions to design and craft the finished product in a lab setting. When you return to the office, we will check the fit and if necessary, make adjustments to improve the fit. The restoration is then attached with a powerful bonding agent. With proper oral hygiene habits, you can then ensure your new porcelain restorations last for many years to come!
The Makeover Potential
We could use them to mask permanent teeth stains, the kind that form beneath the enamel and that may not respond to teeth whitening. Placement could also help close gaps and black triangle spaces between your teeth. We could also lengthen worn down teeth, and provide repair for chipped or cracked teeth. Veneers also correct misshapen or malformed teeth too! We could also combine these with whitening and bonding for a more cost-effective makeover. To find out if these are right for you, or what cosmetic treatments you may need, then schedule a cosmetic consultation. We will examine your smile to see what treatments will best correct your smile.
If you have any questions about how we transform your smile in just two visits with porcelain veneers, or about any of our other professional cosmetic treatments, then contact our team today.
TALK TO MMC DENTAL ABOUT COSMETIC RESTORATIONS
We want to help you enjoy a beautiful smile with our custom cosmetic restorations. For more information on how our team improves the overall beauty of your smile, then contact your Houston, TX, dentist, Dr. Chan, by calling 713-926-8896. Our team wants to help you obtain the smile you've always dreamed of with our cosmetic treatment options.