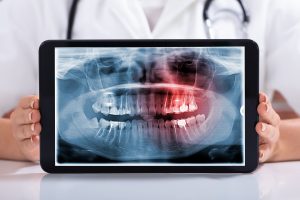 Every six months, we want to see kids and adults alike for a routine checkup visit. Dental exams help us address trouble in the early stages, and protect smiles from major issues. In today's blog, your Houston, TX, dentist will explain how we examine and diagnose your smile with advanced CBCT technology.
When Do You Need a Checkup?
First, let's talk a little about the checkup process. We want to see people of all ages once every six months for an exam. With an exam, we have a chance to take a close look at the teeth, gums, and oral structures for signs of trouble, so we can create a treatment plan to address them before major complications and discomfort develops. Our team may look for tooth decay, infection, gingivitis, and gum disese. We also examine kids for signs of developing misalignment and other childhood complications. Exams also identify the factors behind TMJ disorder, bruxism, and even allow us to screen once a year for oral cancer. But how do we make such a thorough dental exam? For that, we need digital technology.
CBCT Technology
Our team will use cone beam computed tomography (CBCT). The system offers x-rays that use a fraction of the radiation, and have images available instantly chairside, no lengthy development times that employ harsh chemicals. The images offer us a 3D picture of your smile, including your jaw, neck, mouth, teeth, gums, and even images of the ear, nose, and throat. With this total image of your smile, we can closely examine your oral structures from multiple angles, better identifying problems in the earliest possible stages. We can also walk you through the diagnostic process and help you better understand your oral health and the treatment options that may benefit you. We then craft a plan to help restore the health, function, and beauty of your smile.
Cleanings and More
During the same visit, we will take time to clean your smile! A cleaning means using an ultrasonic scaling device and a manual tool to remove all plaque and tartar from the surfaces of your teeth. This process not only leads to brighter teeth and fresher breath, but also limits the risk of tooth decay and gum disease! If you have any questions about our preventive visits, or if you would like to schedule one for you and your family, then please contact our team today to learn more!
MMC DENTAL EMPLOYS ADVANCED TECHNOLOGY
MMC Dental ready to help you maintain good oral health for years to come. To learn more about the process of diagnosing and improving your oral health, then start by scheduling your next appointment at MMC Dental in Houston, TX by calling 713-926-8896.