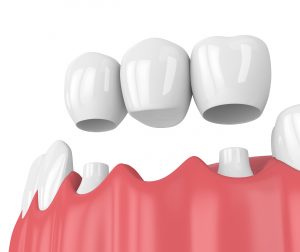 When you have gaps due to tooth loss, this could not only alter your smile's appearance, but also harm your function and overall health. To fill these gaps and prevent major complications down the road, then you should contact your Houston, TX, dentist to talk about bridges. We can secure these prosthetics with crowns, or even long-lasting dental implants!
The Impact of Losing a Tooth
Why should a missing tooth concern you? Well, even one missing tooth could cause major problems for your smile's beauty and stability. For example, your unsightly gap could cause surrounding teeth to shift from position, causing misalignment and further straining your jaw joints and bite balance. Not only is tooth decay and gum disease more likely, but the strain and imbalance could also lead to TMJ disorder and even bruxism (chronic teeth grinding). The lack of tooth roots means that portion of your jaw will no longer receive doses of calcium and phosphorus, breaking down and leading to an aged appearance and further tooth loss! To avoid these issues, and also prevent complications eating and speaking, you need to seek a prosthetic!
Creating Your Custom Prosthetic
After we address underlying oral health issues behind your tooth loss, we will take detailed impressions and measurements of your smile with digital technology. This enables us to design and craft your new prosthetic in a lab setting. Using strong and durable materials like ceramic, your new teeth can absorb daily bite forces and also be color-matched to blend with your smile! The bridge will contain one to three new teeth with crowns attached to each end. We want you to enjoy a full, lifelike, and balanced bite following placement!
Placing Your Bridge With Crowns (and Implants)
We have two different options for securing your new prosthetic. For some, we could remove structure from the abutment teeth, the ones on either side of the gap, and place the crowns onto them. These are effective and last up to 15 years in some cases. However, we could also insert dental implants into your jaw and attach the crowns to them. These will last much longer, preserve tooth structure, and also ensure you enjoy a bright and beautiful smile. If you have any questions about how we address missing teeth with a bridge, or if you have lost one or more teeth, then please contact our team today to discuss possible options.
MMC DENTAL WANTS TO HELP YOUR SMILE
MMC Dental wants to make sure you continue to smile with confidence and enjoy meals without complication. To learn more about how we treat missing teeth and improve your smile, then start by scheduling your next appointment at MMC Dental in Houston, TX by calling 713-926-8896.