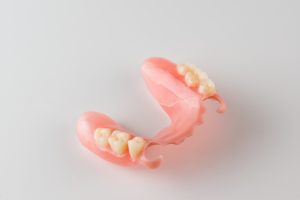 When you suffer from a more advanced stage of tooth loss, a bridge isn't enough to fill the multiple gaps in your smile. However, you may not need a full denture yet either! Fortunately, your Houston, TX, dentist knows how to address tooth loss with a custom partial denture.
When Should You Try a Partial?
We suggest a partial for people with multiple gaps in their smile, especially if they're spread across different parts of each arch. These situations are often too severe to be addressed with a single bridge, and you could still have enough teeth that extracting them to make room for a full denture isn't a sensible option. The partial is removable and held in place with metal clasps that attach to natural teeth, but remain invisible when worn.
Designing and Crafting Your Prosthetic
We start by assessing the cause and extent of your missing teeth. We may suggest treatment to address any underlying oral health issues, such as infection or periodontal disease. After all, in addition to replacing missing teeth we want to protect your remaining natural ones too. Next, we take detailed digital images and measurements of your smile, which we use in a dental lab setting to begin designing and crafting your prosthetic. We use acrylic for the base, as this can be designed to mimic gum tissue. For the teeth, we could use options like ceramic, which are strong, durable, and can be color-matched to blend with the rest of your smile.
Maintaining a New Smile
Routine care is necessary to keep your prosthetic strong. You need to remove it for cleaning and soaking, as we will instruct. With proper care and attention, they can last about 15 to 10 years on average, requiring replacement as the shape of your jaw ridge changes with time. To help safeguard your natural teeth and prevent worsening tooth loss, we may suggest brushing and flossing daily, cutting back on sugary foods and drinks, and seeing us every six months for an exam, and so we can remove all plaque and tartar from your smile. These actions help manage gum disease and prevent other issue slinked to adult tooth loss.
If you have any questions about replacing missing teeth, or preventing tooth loss, the let us know. We would love to schedule a visit so we can make sure you continue to enjoy optimal oral health, and obtain a full, functional, and attractive smile as well.
MMC DENTAL WANTS TO TREAT YOUR MISSING TEETH
MMC Dental helps fill the gaps in your smile with a custom-made and lifelike prosthetic. To learn more about the process of treating missing teeth, then start by scheduling your next appointment at MMC Dental in Houston, TX by calling 713-926-8896.