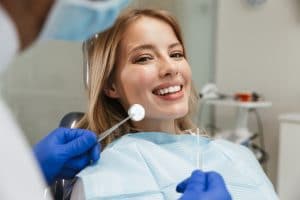 We're finally ready to start resuming care for patients in need of general treatments, such as checkups and cleanings. With our new health and safety measures, we can protect our patients and make sure they receive the care they need. In today's blog, your Houston, TX, dentist will look at the benefits of an exam, and why we all need one at least twice a year!
The Benefits of an Exam
An exam is a chance for our team to employ advanced technology, including digital x-rays, to carefully look over your teeth, gums, roots, and oral structures for possible signs of trouble in smiles of all ages. We then create a treatment plan to address these concerns before you experience discomfort or risk losing one or more of your natural teeth. For example, our checkup watches for cavities, infections, gingivitis, gum disease, TMJ disorder, and bruxism (teeth grinding). We also provide oral cancer screenings for adults once a year as well. The earlier we identify trouble, the sooner can address them and safeguard the health, beauty, and function of your smile.
Cleaning Your Smile
During the same appointment, our team will also clean smiles of all ages using an ultrasonic scaling device and a manual tool. This process removes all plaque and tartar from the surfaces of the teeth. Removing plaque helps prevent the onset of cavities and gum disease by preventing weakened enamel erosion and inflamed gum tissues. Patients also enjoy brighter teeth and fresh breath as a result of this simple procedure!
Continue Your Care at Home
In between these visits, which should happen every six months on a average, you need to continue caring for your smiles at home. For example, make sure you start your day by brushing your teeth for two minutes, and do the same before bed. You also need to floss thoroughly before bed as well. These actions help remove trapped food particles, limiting the severity of plaque buildup. You could also help by avoiding sugary foods and drinks, or at least cutting back, as this deprives harmful bacteria of the food particles needed to create plaque and weaken oral health., If you have any questions about treating poor oral health, then contact our team today. We want to help you obtain your healthiest possible smile with routine care both in-office and at-home!
DO YOU HAVE QUESTIONS ABOUT PREVENTIVE DENTAL CARE?
Our team is here to help you and your family continue to maintain optimal oral health with an array of treatment options! To learn more about our approach to general and preventive care, schedule an appointment by calling MMC Dental in Houston, TX, today at (713) 926-8896.