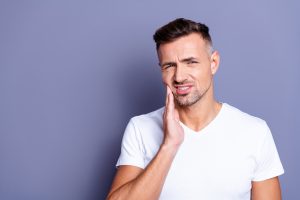 Have you noticed mild and worsening discomfort in your smile? If so, this could be linked to a growing cavity! While we're closed for general treatments, your Houston, TX, dentist is still here for emergency care, and that involves preventing cavities from becoming infections. In today's blog, we look at when you should see us for a dental filling.
The Warning Signs of a Cavity
How do you know if you have an oral health issue in need of immediate attention? Well, a mild ache or sensitivity that passes after a few hours could be linked to sinus or allergy issues. However, if you have tooth sensitivity or a toothache that lasts for more than a day, then you could have a cavity. Once your tooth aches, this means the cavity is likely in an advanced stage and an infection isn't far behind! If you experience pain in your smile, let us know right away. We will schedule a visit to see you and render treatment.
The Dangers of Ignoring Your Toothache
Once the cavity grows large enough to reach you inner pulp the tooth could become infected or abscessed. The discomfort will increase and unless you receive treatment, this could mean the loss of your tooth and an unsightly gap in your smile, as well as the spread of infection to nearby teeth. Don't let a mild discomfort morph into something so serious you risk losing your teeth! Instead, contact our team so we can use restorative dental care to return your tooth to optimal health, function, and beauty.
Treatment with a Filling
When you arrive, we'll take your temperature and also ensure the waiting room is empty. In between each patient visit, we clean and disinfect commonly touched surfaces. We will remove magazines and toys from the waiting room, and our team members will wear PPE, such as masks and gloves. Following strict health and safety protocols protects you, and our team members as well. For cavities, we may create a filling that looks natural and only takes a single visit to place, halting the spread of decay and protecting your smile. If you have an infection, a root canal will allow us to remove infected tissue. We then fill the tooth with a restorative material and cap it with a custom-made and natural-looking dental crown. If you have any questions, then contact our team today.
DO YOU HAVE QUESTIONS ABOUT EMERGENCY DENTISTRY?
Our team wants you to know when you should see us, and how you can protect your smile from home. To learn more about treating serious oral health issues, schedule an appointment by calling MMC Dental in Houston, TX, today at (713) 926-8896.