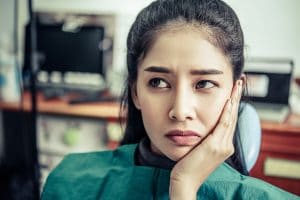 We're currently only offering emergency treatment to patients with serious oral health issues on a case-by-case basis. For example, a dental infection could lead to severe discomfort, and even the loss of the tooth in extreme cases. Fortunately, as part of our approach to emergency dental care, your Houston, TX, dentist can repair and restore your infected tooth.
The Warning Signs of an Infection
How do you know if you have an infected tooth that needs attention? Warning signs vary, but could include tooth sensitivity, toothaches, or pain when you bite down or chew. There could be swelling near the tooth, a discharge from it, or headache and discomfort in and around the tooth. If you begin to experience one or more of these potential warning signs, then please contact our team today. We would love to help you enjoy a healthier and more attractive smile, and avoid the risk of tooth loss, with often follows an untreated infection or abscess.
Treating Your Tooth
When you visit our office, we will schedule a visit to ensure you don't share the waiting room with other people. Our team will be following strict health and safety measures as well, washing hands, wearing gloves and masks, and cleaning and disinfecting surfaces throughout the office. We will examine your tooth and then remove the infected tissues from within. Next, we clean the inside of the tooth and then add a restorative filling material known as gutta percha. Finally, we cap the tooth with a custom-made and lifelike dental crown. This halts the infection and ensures your tooth is not only healthy and free of discomfort, but that it looks natural and blends with your smile.
Protecting Your Smile
What can you do to lower your risk of cavities and infections down the road? First, try to cut back on sugary and starchy foods, as well as beverages high in sugars and acids. Make time to brush your teeth when you wake up and again before bed for about two minutes each session. We suggest a toothpaste with fluoride too! Make time to floss as well each night before bed, which removes the trapped food parcels a toothbrush may not be able to alone. If you have any questions about protecting your smile, or about addressing emergency issues like damaged teeth or infected ones, then contact our team today. We want to make sure you and your family continues to enjoy optimal oral health.
DO YOU HAVE QUESTIONS ABOUT RESTORATIVE DENTISTRY?
By alerting us to your aching teeth, we can offer treatment to prevent the loss of your tooth. To learn more about restorative dental care, schedule an appointment by calling MMC Dental in Houston, TX, today at (713) 926-8896.