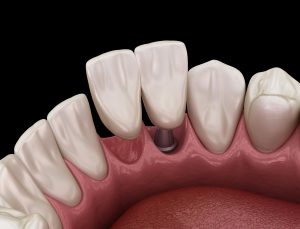 We believe in making the process of improving oral health and smile beauty as convenient as possible. Which is why your Houston, TX, dentists work with specialists and provide our treatments in-house. No need for referrals or visits to other practices and specialists. In today's blog, we're going to look at some of the in-house oral surgical options we provide!
In-Office Specialists
We have specialists on staff with experience providing oral surgery, ensuring your comfort throughout the process and providing treatment with accuracy and precision. We can answer any questions you have and walk you through what to expect beforehand. We provide local anesthetic and dental sedation to ensure you remain calm and relaxed throughout the procedure, with little to no memory of it afterward. We also have follow-up visit to monitor you during the healing process, helping you avoid complications and ensuring you continue to enjoy optimal oral health and beautiful smiles! No need to head to other offices or work with other practices, and our team can also file insurance for you and help you understand the extent of your benefits as well.
Implant Placement
Once common oral surgical procedure we perform is implant placement. Dental implants offer durable and lifelike solutions to minor and severe tooth loss. We can replace a single lost tooth, or secure a fixed denture that never slips and has the potential to last for decades. A dental implant will be inserted into the jawbone itself, acting as a new tooth root and actually bonding with the jawbone tissue. We will carefully plan and guide your treatment using advanced technology, ensuring a successful placement and long-term tooth replacement. If you have one or more missing teeth, then don't continue to suffer with the complications of tooth loss, talk to our team today.
Dental Extraction
While we strive to replace missing teeth and preserve your natural teeth when possible, sometimes to best option for your smile is to remove a tooth. For example, removing wisdom teeth prior to eruption helps safeguard smiles against painful partial eruption, infections, damaged teeth, and misalignment. Removing a severely infected or damaged tooth can prevent issues from spreading to surrounding teeth. Sometimes, we even correct misalignment by removing a tooth to make room to reposition the others. The process is quick and be completed in-house. After we administer sedation and anesthetic, we gently remove the tooth and then suture the extraction site. With detailed aftercare instructions, we can help ensure a fast and comfortable healing process.
MMC DENTAL PROVIDES ORAL SURGERY
Whether you have missing teeth or need to have an infected tooth removed, our team can help. To learn more about our restorative treatment options, then please schedule a consultation with Dr. Michael Chan by calling MMC Dental in Houston, TX, today at (713) 926-8896.