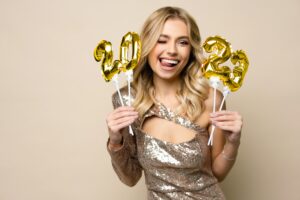 As the year draws to a close, it is the time when we sit down and take a good hard look at the successes and failures of the past twelve months. This allows us to reassess our choices in order not to repeat the same mistakes into the future. The cycle of renewal that comes alongside New Years gives us a great opportunity to improve and learn as we grow older. Take advantage of this time of year and make 2023 your year for positive oral health change!
Beyond your regular cleaning and examination in January, this could be the right time to speak with your dentist about the possibility of cosmetic dentistry. Many of us struggle with aspects of our smile that we would like to change. While this is natural, it is not something that we have to accept. At MMC Dental in Houston, TX, we pride ourselves in developing beautiful smiles for patients. Discover how we can help you to reach new oral wellness heights in 2023!
You Can Keep It Simple
If you are looking for a touch-up for your existing smile, there are a few quick procedures that can help tidy the tissue. One popular example of this is in the process of tooth whitening. This is the removal of extrinsic stains from the enamel. Discoloration can build over years of exposure to staining agents within the things we love to eat and drink. While red wine and coffee are common culprits, plenty of our common fruits and vegetables are also full of color that can stick with your enamel.
We offer this treatment both in our office and with convenient at-home care. Both of these have their independent strengths, so discuss your unique smile situation with your dentist at a consultation. You might be surprised at how helpful this is in renewing your appearance!
Precise Shaping Through Contouring
Another cosmetic dental improvement that can help you to look your best is through contouring. This refers to the removal of extra material to give you a clean appearance. This is possible with two different forms of biological matter, the enamel and the periodontal tissue. Both of these procedures can help you to improve the look of your smile.
Enamel contouring can remove excess tooth material that may be uneven or overgrown. While this has obvious cosmetic benefits, it can also help you to properly brush your teeth and avoid future tooth decay. Periodontal contouring is the reshaping of the gum tissue and it can bring comprehensive benefits.
A Beautiful New Smile In Houston, TX
Take advantage of the incoming year through cosmetic dental enhancement. Call us at MMC Dental in Houston, TX at 713-926-8896 to learn more about how we can help you make 2023 a banner year for your oral health!