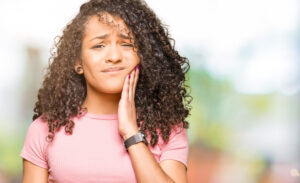 When you have an issue like TMJ disorder, you could experience jaw pain or a headache. To bring relief, you may need treatment from our team. In today's blog, your Houston, TX, dentist wants to discuss how to recognize issues like TMD, and how we offer treatment with a comfortable and custom-made oral appliance.
The Causes of TMJ Disorder
When our smiles become imbalanced, this could place serious strain on the temporomandibular joints, which connect your skull and jaw. Over time, this could mean the onset of TMJ disorder, a disorder linked to chronic pain in and around your smile and over time, problems opening and closing your mouth fully. Causes could include injury to your face or jaw, high levels of stress or teeth grinding, tooth loss, malocclusion, or dental misalignment. As part of your treatment, we will take detailed images and assess the cause and extent of your disorder, so we can choose the optimal treatment option.
Warning Signs and Dangers
People with the disorder could report a number of uncomfortable symptoms. For example, headaches and migraines are common, as is facial and jaw pain. People could report aches in the neck and shoulders, a popping or clicking sensation in the jaw, or toothaches and sensitivity due to grinding or clenching. Without treatment, you risk worsening pain and even damaged teeth. Which is why you should see us right away when you experience this discomfort.
Treatment Options
How do we bring a stop to TMJ disorder? For some, we could improve overall balance with a crown or bonding procedure. We could also correct misalignment with braces or clear aligner technology. However, the most common cause is with an oral appliance. The device looks and fits like a mouthguard. When worn at night, the device will shift the smile to ease strain on the joints, offering relief and better bite balance. The appliance will be custom-fitted for your smile to ensure comfort and treatment with precision and accuracy. As a bonus, if you grind your teeth the device places a barrier between the upper and lower sets of teeth, which prevents wearing down structure or further chips and cracks.
If you have any questions about diagnosing and treating an issue like TMD, then please contact our team today. A visit now could mean relief before the holiday season gets too hectic, and that you could use your 2021 dental insurance benefits before they expire at the end of the month.
TALK TO MMC DENTAL ABOUT PREVENTIVE DENTISTRY
Our team wants to help correct discomfort and restore health and function to your smile. For more information on treating jaw joint strain and bite imbalance, then contact your Houston, TX, dentist, Dr. Chan, by calling 713-926-8896.