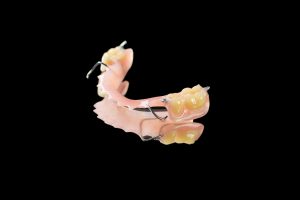 We recently looked at bridges and how they address minor tooth loss. But what if you have several gaps in your smile, possibly spread out across your arch? In these situations, a custom partial denture may be the best option for addressing your lost teeth. In today's blog, your Houston, TX, dentist talks about our partial dentures.
The Reasons to Receive a Partial
When you have between one and three missing teeth in a row, then a dental bridge is often the optimal choice for addressing your missing teeth. If you have lost the vast majority of your teeth, then we may suggest extracting the remaining few and securing a complete set of dentures. But if you have cases too severe for a bridge, but not serious enough for a full denture, a partial is often used. The prosthetic contains new teeth, made from durable and lifelike ceramic, set in an acrylic base that mimics gum tissues. Metal clasps, whjch are not noticeable when the prosthetic is worn, will attach to natural teeth to secure it. This fills all the gaps at once and restores the stability and function of your smile!
Creating Your Custom Denture
To begin, we will first consider treatments for any underlying oral health issues that have caused your tooth loss, as this could protect your remaining teeth. We also take detailed images and measurements with advanced digital technology. The images and measurements will be combined to create a 3D model and used in a lab setting to design and craft the finished product. Each one is custom-made to ensure not only a natural appearance, but a comfortable appearance and a balanced bite, helping you avoid complications of a tooth loss or an ill-fitting prosthetic.
Removable and Implant Options
We have two options for your smile. The most common is removable, held in place with the clasps we mentioned above. They last about 5 to 10 years, requiring replacement as the jaw ridge changes shape. You will need to take them out for cleaning and soaking as well. However, we could also support them with dental implants. The implants act as new roots, stimulating the growth of jawbone tissue and preventing the changes that occur following tooth loss. As a result, your prosthetic is fixed in place and could last decades to come. We will help you choose the option that works best for your smile! If you have any questions about tooth replacement, then contact our team today.
TALK TO MMC DENTAL ABOUT CUSTOM PROSTHETICS
Our team is ready to help you find the best prosthetic to address missing teeth. For more information on how you correct the gaps in your smile, then contact your Houston, TX, dentist, Dr. Chan, by calling 713-926-8896.