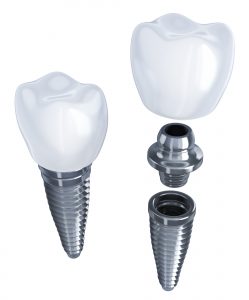 When you have one or more missing teeth, then we could help with dental implants! Placing one or more of them could provide a stable, secure, and lifelike solution to minor or advanced cases of tooth loss. In today's blog, your Houston, TX, dentist will explain how we place a dental implant and restore your smile.
Examinations and Underlying Oral Health Issues
First, we need to take a close look at your smile. We want to understand the causes of you tooth loss, and then address any underlying oral health issues you have. After all, we don't want advanced gum disease or other issues to compromise your implants or prevent you from receiving them. Following treatment for these concerns, we will move forward with placement. To begin, we take detailed digital images to enable our team to choose the best place for them to be inserted, meaning they support a new tooth and promote bone growth in the jaw.
Placing Your New Roots
Next, the same technology will help guide them into place. Each implant post is a small, screw-like device made from biocompatible titanium, so the body accepts it as natural and it bonds with the bone tissue. This process, known as osseointegration, actually ensures it can last for decades to come, possibly even a lifetime. If you're having a single lost tooth addressed, we insert a single post. If you have advanced tooth loss, we insert multiple ones. For total tooth loss, we may need to extract one or two remaining teeth, and insert between four and eight posts per arch to support a complete denture.
Abutments and Restorations
Following the placement, we will need to wait for the area to heal. At which point, we attach abutments and then affix a crown or an individual one, or attach a prosthetic for multiple ones. Either option involves a custom approach, as we want your crowns and dentures to look natural, offer durable chewing surfaces, and ensure a balanced bite. Routine care is then necessary to keep them strong and safeguard any remaining natural teeth. During follow-up visits and routine checkup appointments, we will keep an eye on your new teeth, and ensure your smile continues to remain whole and healthy.
If you have any questions about the implant placement process, or about addressing or preventing tooth loss, then please contact our team today. We want to help our patients enjoy a full and beautiful smile for years to come.
TALK TO MMC DENTAL ABOUT IMPLANT DENTISTRY
Our team is ready to help you enjoy a strong and healthy smile again with dental implants. For more information on the benefits of addressing tooth loss with implant dentistry, contact your Houston, TX, dentist, Dr. Chan, by calling 713-926-8896.