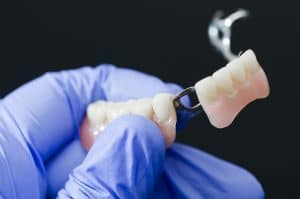 Missing teeth can have a long-term impact on your oral health, affecting things like the way you bite, your facial features, and your self-confidence. However, with prosthodontics, these issues can be corrected. Working with expert prosthodontists, your Houston, TX, dentist can help ensure you have a fully functional smile. Prosthodontists specialize in restoring missing teeth, along with treatments relating to your jawbone or gums. Treatments can include reconstruction of teeth, dental bridges, dentures, and implants. Through their expert procedures, they can help you obtain a smile you'll be confident to show off.
Bridging The Gap
Dental bridges are an excellent option for tooth replacement. When a tooth is missing, the other teeth can shift or suffer damage from pressure during biting or chewing. Like the name implies, a dental bridge connects a gap between healthy teeth, also called the abutment teeth. The tooth replacement, called a pontic, is lifelike and custom designed to appear similar to a lost tooth. Dental crowns are attached to the abutment teeth to support the bridge. Dental bridge benefits include jawbone stimulation, preservation of healthy teeth, and a reduced risk of future tooth loss.
A Way For You To Restore Your Overall Smile
Patients who have lost multiple teeth may need a partial denture to help them retain their smiles, facial features, and good oral health. If all the teeth are missing, a complete denture may be needed. A partial denture is custom designed and lifelike. The denture offers support for your remaining healthy teeth. A complete denture looks like a full row of lifelike teeth. It fits comfortably and snug on your gums. Sometimes a prosthetic needs dental implant posts that mimic natural tooth roots This can help stabilize your denture, minimize jawbone deterioration, and improve your bite.
Adding Strength and Support To Your Prothesis
Any dental prosthetic you receive should be durable and reliable. One way to achieve this is with dental implants. They are made of biocompatible titanium, and they act like natural teeth roots. This strong support system is inserted into your jawbone and becomes a permanent part of the bone. Advanced digital technology is used to accurately place the implants. After the implants are inserted, custom-designed bridges, crowns, or dentures are attached to them. Dental implants benefit you by making your prosthesis more comfortable, your replacement teeth steadier, your denture more stable, and your facial features complete.
Contact Us To Learn More About Your Options
We offer several solutions for missing teeth that will help you regain your smile and maintain good oral health. To learn more about our prosthodontic dentistry options, please schedule a consultation with Dr. Michael Chan by calling MMC Dental in Houston, TX, today at (713) 926-8896.