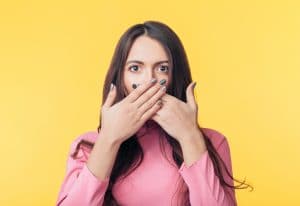 Have your ever heard of a gummy smile? Simply put, this refers to an excessive display of gingival tissue when you smile, which can lead to a host of serious concerns and even problems for your overall oral health. In order to correct the shape of your gums, we may suggest a safe and comfortable cosmetic treatment known as gum contouring. When should you see your Houston. TX, dentist for a gum contouring procedure?
Gummy Smile and Other Esthetic Issues
When we have an excess of gum tissue, this impacts the appearance of your smile. For one, you may display too much gingival tissue when you smile, or the tissue could make the teeth appear small or uneven. When you maintain routine homecare and see us regularly, this can help your teeth remain healthy and even protect the health of your gums, but unless we address the issues with the excess tissue itself, your cosmetic problems will remain.
Gum Contouring
The treatment is actually a very minor oral surgical procedure, one that enables us to carefully and gently remove excessive tissue from the gumline. With minimal and strategic trimming, we can improve the appearance of your smile and remove the unnecessary tissue. We often perform this procedure as part of a smile makeover, combining it with other cosmetic treatment options. We will schedule follow-up visits to ensure the treatment area is healing properly, and to help you avoid any complications. We want to help you enjoy a beautiful smile, one you'll be eager to show off when you laugh or smile.
Periodontal Disease
Of course, this treatment isn't just limited to cosmetic concerns. Gingivitis and periodontal disease impact half of adults over the age of 30, according to the Centers for Disease Control. While there is no cure for periodontal disease, unless treatment is rendered to manage the disease, periodontitis can form, an advanced stage responsible for adult tooth loss. When a patient comes to us with sore, red gums that bleed easily, swelling, or receding tissue, then periodontal disease may be responsible. Using the same technology employed in our gum contouring procedure, we can carefully remove any diseased tissue from the smile, allowing healthy tissue to adhere to the teeth and closing periodontal pockets, protecting the overall health. With routine cleanings and homecare, we can help you manage and control the disease. If you have any questions, then please contact our team today.
MMC DENTAL PROVIDES COSMETIC TREATMENT OPTIONS
We would like to help you enjoy a bright, beautiful smile, one you can't way to show the world. To learn more about our cosmetic treatment options, then please schedule a consultation with Dr. Michael Chan by calling MMC Dental in Houston, TX, today at (713) 926-8896.