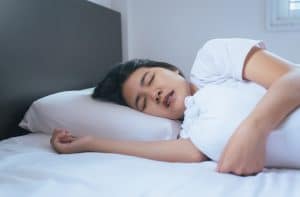 Do you often grind your teeth or clench your jaw? Not only is this habit annoying, for your significant other as well as you, but routine grinding and clenching could mean bruxism, a serious disorder that threatens the health and stability of your smile. Fortunately, your Houston, TX, dentists can help stop teeth grinding with a custom-made nightguard.
The Causes of Bruxism
Why do we develop chronic teeth grinding in adulthood? Factors vary, but often include bite imbalance, misalignment, tooth loss, untreated TMJ disorder, or high levels of stress in your daily life. Warning signs include headaches, jaw pain and facial discomfort, tooth sensitivity and toothaches, and teeth appearing small or short. When we examine your smile, we will look at the teeth for signs of wear and friction, and also examine your jaw joints and oral structures. From there, we will be able to diagnose your bruxism and pinpoint the possible causes, which is crucial for choosing the most appropriate treatment option.
Custom-Made Nightguard
Often, treatment involves wearing a comfortable and custom-made oral appliance. Our team will take detailed impressions and measurements of your smile, jaw, and oral structures. We use the information gathered to design and create the appliance, which fits like a mouthguard. The oral appliance will be worn at night, repositioning the jaw to ease tension and prevent grinding episodes, and placing a barrier between the upper and lower sets of teeth to prevent further damage. We may also recommend orthodontics to correct misalignment, or may place a restoration to address bite imbalance. At home, you may benefit from avoiding caffeinated products and stop chewing on hard or chewy foods/objects, such as gum, ice, pens, or pencils. If your smile sustains damage, we can repair with bonding, crowns, or veneers.
The Dangers of Bruxism
Grinding your teeth places enormous pressure on the smile. As the enamel is worn away, the sensitive inner structure can become exposed to bacteria, leading to a greater risk of tooth decay and gum disease. In some cases, the teeth may become cracked, chipped, or even worn down. Not only will this impact your smile's appearance, but your overall oral health as well. If you begin to experience one or more of the symptoms we've discussed in today's blog, or if someone tells you that you grind your teeth, then contact our team today. We can perform a diagnosis and help choose the optimal treatment option to return your smile to full function, health, and beauty.
MMC DENTAL STOPS BRUXISM
Our team can offer custom and comfortable solutions to bruxism. To learn more about our approach to treating teeth grinding, then please schedule a consultation with Dr. Michael Chan by calling MMC Dental in Houston, TX, today at (713) 926-8896.