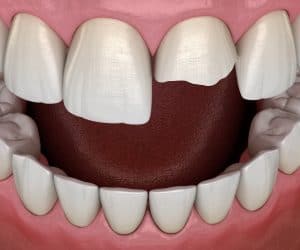 If you have a chipped tooth, or issues with the color or shape of a tooth, then you may want to try cosmetic treatment. With a single treatment option, your Houston, TX, dentist can often transform the smile's appearance. In today's blog, let's look at the benefits of cosmetic bonding and contouring.
Bonding and Contouring
While we often perform both treatments in the same visit, these are two very different cosmetic procedures. With dental bonding, we begin by etching the tooth surface and then preparing the composite reins we use in the procedure. We also use this material in our tooth-colored dental fillings. Composite rein is a metal-free blend of quartz and acrylic compounds, which can be shaded to match the color of your tooth. We apply the material in several layers, the etched portions keeping it in place as the material cures under a light. As the composite resin material cures, we sculpt and mold the tooth.
Contouring doesn't involve adding any material to a tooth. Instead, we gently buff and sand away a thin outer layer to reshape the tooth and address a number of cosmetic issues. Both treatments can be completed in a single visit, offering a convenient solution to an array of cosmetic dental issues, from discoloration to misshapen teeth.
Cosmetic Dental Issues
With bonding, we can mask permanent teeth stains. Also known as intrinsic stains, these form below the tooth enamel instead of on the surface, which means they may not respond to traditional whitening options. Fortunately, we can mask them completely. We also use bonding to repair minor chips or cracks in the tooth, preventing decay as a result of exposed inner tooth structure. We can lengthen worn down teeth, which occurs as a result of teeth grinding or injury. Our team may also close unsightly gaps between the teeth as well.
With contouring, we can remove any embarrassing pits or grooves in the surface of the tooth. We can reshape misshapen teeth or correct very minor chips and damage. We've also employed this procedure to address overly pointed teeth as well. We may use these options on their own, or combine them with veneers and teeth whitening for a compete smile makeover. If you have any questions about these treatment options, or if you would like to schedule a consultation to see if they can transform your smile, then contact our team today.
MMC DENTAL PROVIDES COSMETIC TREATMENT
Our team is ready to help you enjoy a healthier and more attractive smile with professional cosmetic dental care. To learn more about our single-visit cosmetic treatments, then please schedule a consultation with Dr. Michael Chan by calling MMC Dental in Houston, TX, today at (713) 926-8896.