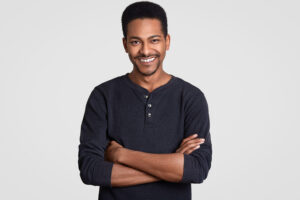 Have you started to experience pain or discomfort within your mouth? If so, it may be a result of an internal tooth infection. When you start to notice a change in the quality of your smile, take some time to discuss your situation with your dentist. A cleaning and examination can help you to receive a diagnosis so that you can fully understand the cause of your concern. Once you and your provider have reached a conclusion on your condition, you can work to find an appropriate course of treatment.
If a bacterial infection has started to take hold within the soft tissue of one of your teeth, your dentist might recommend a root canal treatment procedure. This is one of the helpful methods of repair available to you at our office in Houston, TX, helping you to eradicate your bacterial growth while saving your tooth. In order to free yourself from your nasty toothache and prevent the spread of harmful microorganisms, talk to our team about whether a root canal is right for you!
Talk To Your Dentist If You Begin To Feel Pain In A Tooth
When you start to feel pain in an area of your mouth, it is time to talk with a qualified dental health professional. This symptom can be a sign of a few different concerns, so it is important to receive a diagnosis from a trusted dentist. It may be a sign that you have an infection that is growing within one of your teeth and if so, you should not wait in finding a helpful form of treatment.
Your infection can result in the need for the extraction of the tooth if you wait to seek care. Even more, this bacterial growth can spread from the location into the bone matter of your jaw, so talk to your provider soon about your tooth pain.
How Root Canals Help To Save Teeth After Infection
One of the pillars of restorative dentistry is a procedure known as a root canal treatment. This method starts with the removal of the pulp within your tooth, excising the infected material. After this portion of your treatment, your dentist will seal the connections between your tooth and your jaw shut, preventing the spread of any future bacterial growth.
A beautiful dental crown will serve as the final stabilizing touch for your restorative solution. We have options in your choice of material, so talk with your dentist about the differences, and make the decision that fits your smile!
Learn More About Root Canal Treatment With MMC Dental
When you start to experience pain in your smile, speak with your dentist about the possibility of a root canal treatment. For more information or to schedule an appointment, call MMC Dental in Houston, TX at (713)926-8896.